Introducing our NEW Colour Boutique collection: A colour for every personality and a style for every kitchen
3 min read
The kitchen is the heart of the home, so it deserves some love and special attention when it comes to the design, aesthetics and accessories; including choosing your oven! You might just think of the technology and features when deciding, but what if you could take into account the colour too? That's where our Colour Boutique Collection comes in.
We've just launched 7 brand new stunning colours inspired by the latest home design trends to add a splash to your kitchen whilst still staying true to your interior design choices. Choose from Thunder Blue, Porcini Mushroom, Country Blue, Chilli Red, Midnight Blue, Mojito Mint or Kingfisher Teal and no matter what your interior style is, from laid-back scandi to vibrant art deco, there's a Colour Boutique Range Cooker that will tick all of the boxes.
Each of the Range Cookers in the collection is made to order from our colonial-style Richmond Deluxe Range Cookers which are packed with functional features and innovative technologies designed to enhance your cooking experience. If you want to find out more about how the actual oven is both traditional and clever, then you can check out our previous blog post A guide to our Richmond Deluxe Ovens
It doesn't matter whether you've decided on your interior design style or not, as we've matched our new Colour Boutique colours with most of them, to make creating your dream kitchen even easier.
Strong and bold, the art deco kitchen makes the perfect addition to the modern home, even if it was first made popular in the 1920s. Go for our Kingfisher Teal colour for a touch of old-school glamour and pair it with gold accents, geometric shapes and block colours. If you really want to go bold, then Mojito Mint would also work amazingly in an art deco kitchen.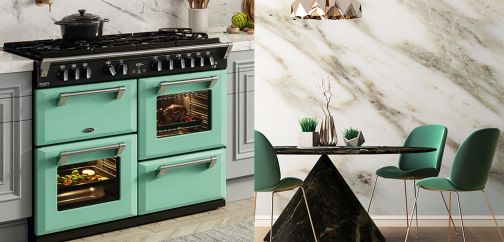 If minimalism is your vibe, then taking inspiration from Scandinavian interior design is the answer. The Scandi look is all about clean lines, simplicity, function and soft hues, which makes our Thunder Blue Range cooker an effortless addition. It will add a little bit of colour to make your kitchen look inviting without creating a vibrancy that would look out of place.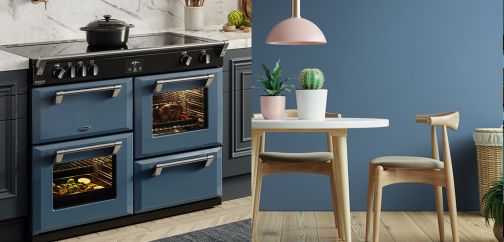 A popular style in Australia thanks to the beachy vibe, the Classic Hamptons interior design style is light, bright and very pared-back when it comes to the colours; in fact, you'd rarely see many colours at all, with beiges, nudes and whites taking centre stage for a sophisticated feel. The Porcini Mushroom Range Cooker is an impeccable choice for this style of kitchen thanks to the traditional style oven and classic colour.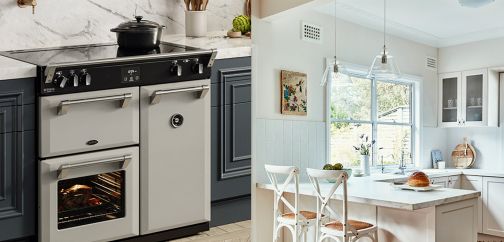 Timeless and forever chic, a mid-century modern kitchen adds a retro feel to any living space with the combination of charming modern features and traditional styles inspired by the 50s and 60s. To add a flourish that's in keeping the character of this style, the Chilli Red or Midnight Blue Range Cookers are the best choices. Just pair either with an exposed brick wall, abstract prints and wooden panelling for a masterclass in mid-century modern.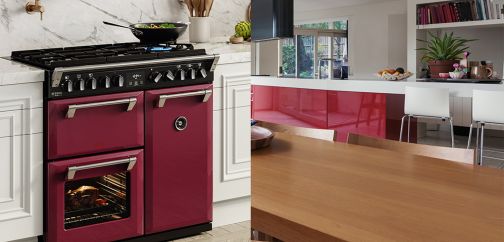 Imagine you're on a weekend getaway in the countryside from the hustle and bustle of the city every time you step into your kitchen you opt for a Farmhouse-style kitchen. Go for our rustic Country Blue Range Cooker and finish off the interior with a large 'farm sink', natural materials, antique accessories and an island.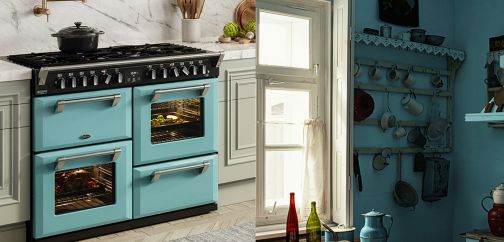 No matter which colour you go for, because you're choosing a Belling you'll know that it will make a statement in any kitchen. The Richmond Deluxe design has incredible features, from a ground-breaking three to four oven converter to make cooking multiple dishes easier to twin-fan technology for faster cooking. We're also offering an impressive 5-year warranty on this multi-use Range Cooker so that you can bring the family together and make the kitchen sing with complete peace of mind. Are you ready to wow your family and friends?