Duel Fuel, Gas-Through-Glass or Induction: A guide to our Richmond Deluxe Ovens.
4 min read
Shopping for a new oven can seem incredibly daunting at the beginning, but once you've got choosing the brand out of the way (obviously you can't beat a Belling) then the real fun can begin.
If you're not quite convinced, then we're just going to remind you that all of our Belling Richmond Deluxe and Cookcentre appliances are under warranty for 5 years which means you can begin your new cooking adventure with complete peace of mind (even though we don't think you need it).
Now you've got the brand, we're going to take a deep dive into our Richmond Deluxe range cookers. They're the perfect oven if you love the traditional colonial-style ovens but still want all the clever and innovative functions of a high-tech appliance. They're classic and clever, refined and cutting edge, stylish and functional. What more could you ask for?
Each sleek oven is packed with functional features and innovative technologies which are specially designed to enhance your cooking, whilst the range of five colours (black, white, red, cream and graphite) means that whatever your style, you can choose the right one to fit effortlessly into the heart of your home.
The Richmond Deluxe range isn't just diverse in colours. You can choose from two sizes (90cm and 110cm) to make the most of your space in the kitchen and three types of oven top, from the classic Dual Fuel Range Cooker to the Gas-Through-Glass and Induction. No matter your lifestyle, there's a Belling for you.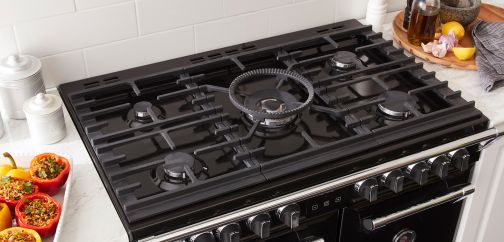 The Dual Fuel Range cooker is a classic style that has all the features you know, love and expect from a great Belling cooker. They come with double extension telescopic runners which easily slide out for safe and easy access to your food. Because no one wants burnt fingers. They're also fully adjustable and removable so you can move them around to any shelf position, depending on what you're cooking. Huge turkey? No problem.
If you love throwing everything in a pan, then these ovens also come with fantastic wok burners. They come with a cast iron wok cradles and can provide you with even heat over a large area. Perfect for yummy stir-fries or high-speed cooking using a large pan.
If you're the type of cook who loves to cook plenty of things at once (think a baked dinner with all the trimmings) then it might be handy to know that our 110cm Richmond Deluxe cookers have four separate ovens. Each oven offers independent functionality so you can cook anything for your family and friends all at once, which is great if there's a vegetarian coming to stay.
The versatile Multi-Function Oven includes a wide range of 13 functions (lucky for some) so that you can perfectly cook anything quickly and easily. Just select which function you need and the oven will do the rest for you. The Compact Oven with Grill is a more conventional oven and multi-function grill all in one, which makes it great for efficiently cooking the smaller things, like grilled fish or omelettes.
Finally, each oven comes with an Equiflow™ Fan to evenly distribute heat around the full oven, leading to faster cooking times and more even and controlled temperatures when cooking.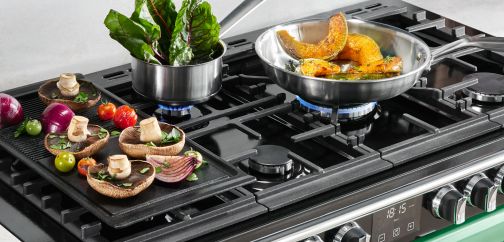 Dual Fuel Gas-Through-Glass Range Cooker
This has all of the aspects of the classic Dual Fuel Range Cooker but it's also topped with a sleek, premium EuroKera glass surface on top of the gas hobs. This not only enhances your kitchen's modern aesthetic with style and elegance, but it also makes sure the surface is super easy to clean whilst maintaining all the benefits of cooking on gas.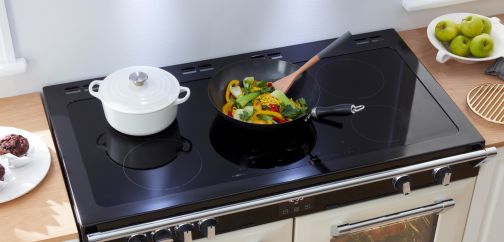 If you prefer the more modern induction cooking over the traditional gas hobs, then we also have the option for an induction top within the Richmond Deluxe Range. Induction stovetops heat up quicker and cook faster, they allow you to control the temperature accurately and precisely and they're seen as more energy efficient because no heat is lost.

Colour Boutique Collection
Once you've decided which style of Richmond Deluxe oven to go for, there's also the opportunity to add a huge splash of colour to your kitchen with our Colour Boutique collection. Each oven comes in the same sizes and fuel types, but you can choose from a wide range of eye-catching colours which are sure to wow anyone that enters your kitchen. Choose from five stunning colours, Day's Break (a soft blue), Floral Burst ( a vibrant pink), Peach Blush (a bright orange), Rolling Countryside (a vivid green) and Wild Berry (a deep purple).
So, if a traditional style oven with modern features is your thing, then the Richmond Deluxe Range is for you. Oh, and did we mention that we were the best-rated brand for ovens in the Finder awards? Just thought we'd slip that in at the end.